Classes start in September and divide as follows:
Child care (crib room) will be through age 3 or 4 – depending on child's development and parental discussion.  Playtime will still be the "norm" but will also introduce Christian story reading time and other appropriate crafts/activities.
Sunday School – Grades pre-K to 6th grade. Will meet near the glass doors in the back area.
Youth Group – Grades 7-12. Will meet in the youth room upstairs.
Adult Education – Meets Wednesdays at 6:00 pm.

Curriculum
The books will be a guide – our focus is activities that help the kids apply God's word in their daily life.
Except child care – we will use an Episcopal lectionary curriculum to follow what the parents are reviewing in church.
This year we will start using Lesson Plans That Work, part of the Episcopal Digital Network, following the Liturgical Calendar.
Samaritans Purse Project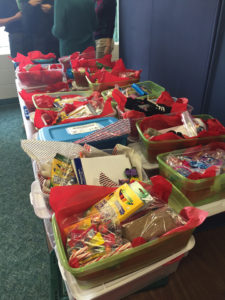 The children will be busy preparing the toys and other items that will be included in this year's Samaritans Purse Project.  Boxes will be complete before Thanksgiving, ready to ship overseas. Last year we shipped 58 boxes.  For more info about this wonderful project, go to www.samaritanspurse.org