Fundraising and Fellowship go hand-in-hand at St. Timothy's.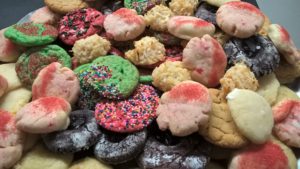 Regular fundraising and outreach projects include:
A Christmas Cookie Sale – a project of ECW
Mother's Day Bake Sale
Shrove Tuesday Pancake Dinner
Spring Spaghetti Dinner
Fall Chili Dinner
Wine Tasting Fundraiser
Fall Chili Dinner
Delicious Chili with all of the fixins is held on the first Friday in November starting at 5:30 pm.  There will be raffle prizes to go along with the wonderful dinner.
We enjoy each other's company and the good food. It is a well-organized event headed by Judy H. and is successful in raising money for the church projects.
Mother's Day Bake Sale – Started in 2016
A lovely sale was held the Saturday before Mother's Day with an emphasis on especially nice looking bakery, good enough to give as a gift.  Look for it again next year!
Christmas Cookie Sale
The second Saturday in December from 9:00 am to noon. Come early to get the best selection of homemade cookies for your Christmas gatherings.