Office hours for Rev. Jennings are: Monday through Thursday  8:30am-12:00pm.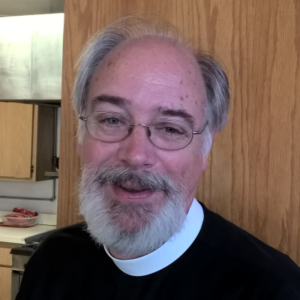 A message from Rev. Jennings' latest newsletter:
We, as a church, do many things. I believe that the most important task to which we are called is to help people grow in their relationship with God. That is why we are here. We have experimented with two different events recently.
The first was the "Drive Thru Ashes" that we provided during two one-hour blocks on Ash Wednesday. Our sign invited people to participate, as did our church announcements and Facebook. I did not know what to expect; neither did parishioners who stood with me. We did not see the Drive Thru Ashes as a replacement for the 7:30 pm Liturgy. We saw it as a chance to offer to people of our community the possibility of intentionally reflecting on God, mortality, repentance, and forgiveness. Thirty-six people participated. We knew some; many others we did not. In God's time, the seeds that were sown will sprout.
The second idea evolved from our Twelfth Night Fun Night and Bunko. Over the years, we have added food and worship to the evening. We have noticed the positive energy and excitement by those who attended. Friends and family are invited. We now call this event "Eat, Play, Pray", with a nod to the author Elizabeth Gilbert. We have done some exploration and found that people would like this event to occur more frequently. We will endeavor to do so. Our next "Eat, Play, Pray" is Sunday, April 23, from 5:00-8:00 pm. Plan on attending. Invite a friend or two. You will have fun and leave feeling more connected to the important things in life.
The Rev. Albert A Jennings
---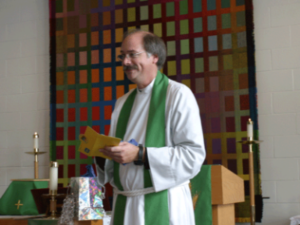 We have been blessed with having Rev. Albert Jennings be our pastor since 1988. Having celebrated 25 years in the ministry in 2003, we have benefited from his experience as well as his compassion and humor.Albert Opens a Token of His Congregation's Esteem on a Surprise Celebration of his 25 years in the ministry.