Haven of Rest Ministries
HOPE TOTE PROJECT
Please join in helping Haven of Rest's annual outreach ministry to needy and homeless women, men and children in our communities.
Sponsored by St. Timothy's ECW, this has been an ongoing Lenten project for many years.  In Lent of 2015, we collected these items: Toothbrushes, Soap, Conditioner, Facial tissues, Socks, Toothpaste, Deodorant, Disposable Razors, Lip Balm, Shoe Laces, Shampoo, Hand/Body Lotion, Shaving Cream, Brushes & Combs
Outreach Mission
In May 2013, we started a new Outreach Mission.  We join St. Philip's of Akron in their monthly food collection for Open M.  Open M is an organization in Summit County that provides for the needy.  Use this link to find out more about this wonderful organization: OPEN M
Each month we collect food items; please pay attention to the Sunday Bulletin inserts for current requests.
No jumbo sizes please. The bin is under the entrance table to receive your donations. Thank you for your participation in this mission and thank you for the food you have donated in the past.
Outreach Committee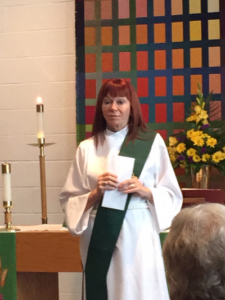 Rev. Lizabeth from Belize visits St. Timothy's to tell us how our donation to the Soup Kitchen at St. John's Anglican Cathedral is needed and appreciated.  St. Timothy's donated 1/3 of its Christmas Offering to this church.
Where is Belize?  Click Here to read about the Church